Chlorine Tablets is a new generation of broad-spectrum, high-efficiency, low-toxicity fungicide, bleach and anti-shrink agent with excellent bactericidal performance,.It is mainly used for disinfection and sterilization of drinking water, industrial recycled water, swimming pools, restaurants, hotels, public places, families, hospitals, poultry eggs and prevention and control of fish lesions.
Introduction of TCCA /Chlorine:
Appearance: White powder, granules or tablets
Molecular formula: C3O3N3Cl3
Molecular weight: 232.44
CAS No.: 87-90-1
HS Code:2933.6922.00
UN No.: 2468
DG Class: 5.1
Function for TCCA Trichloroisocyanuric Acid : Antisepsis, sterilization,water cleaning,bleaching,killing alga,deodorization.
Chlorine Tablets:
1g/tablet

5g/tablet

10g/tablet

15g/tablet

20g/tablet

30g/tablet

50g/tablet

100g/tablet

125g/tablet

150g/tablet

190g/tablet

200g/tablet

(Can be customized)
Chlorine Granules: 8-30 mesh or 20-60 mesh, can be customized.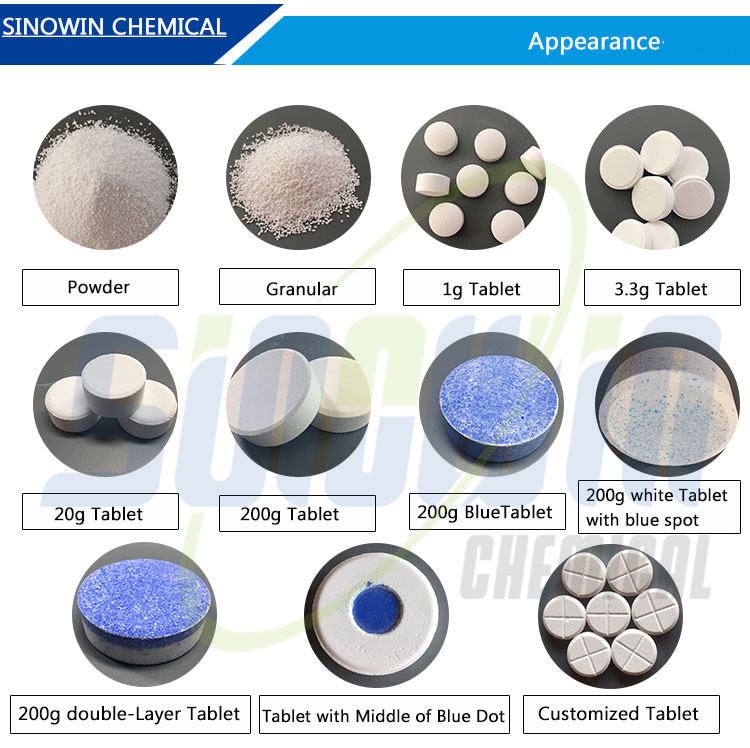 Technical Specification:

Grade\index value\index name

Best quality

First grade

Qualified

Effective content of chlorine % ≥

90.0

89.0

88.0

Content of water % ≤

0.5

0.5

0.5

PH value of 1% solution

2.6-3.2
Application of TCCA /Chlorine:

1.TCCA can be used on swimming.pool and drinking water treatment ,clean the industrial circulating water.
2.TCCA can sterilize tableware,and be used as preventive disinfection of house,hotel,hospital public place.
3.TCCA can be used on the environmental sterilization of raisinfish ,silkworm,livestock,poultry, and so on.
4.TCCA can be used to bleach the textile,to prevent wool from shrinkage ,to stop eating paper by moth,and act as rubber chlorination.
Packing of of TCCA /Chlorine:
1) Plastic Drum: 25kg/drum, 50kg/drum
2) Cardboard barrel: 50kg/barrel(can be customized)

3) Carton(can be customized)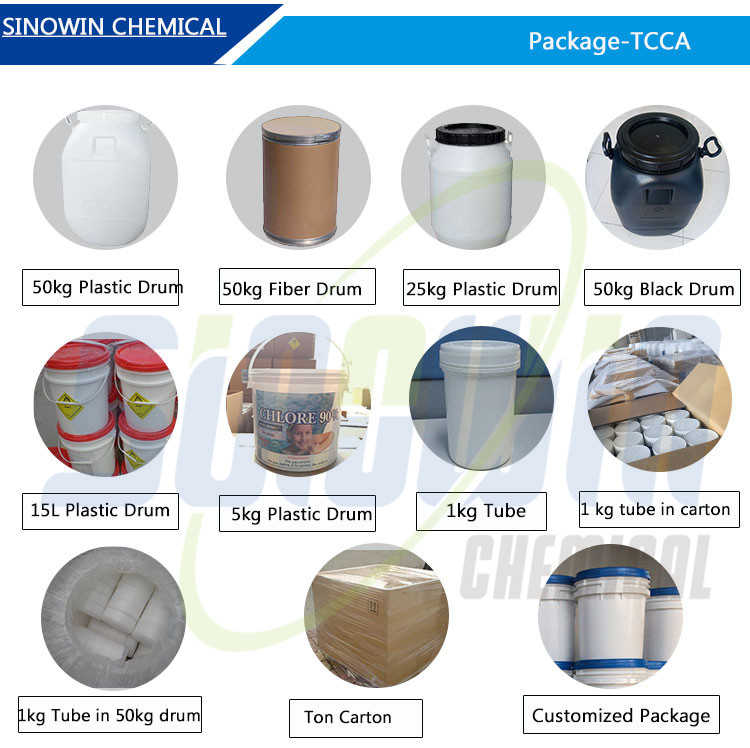 Storage And Transportation
Keep in dry and ventilated place.